doomsday dreamgirl
14 days later - post release stats
---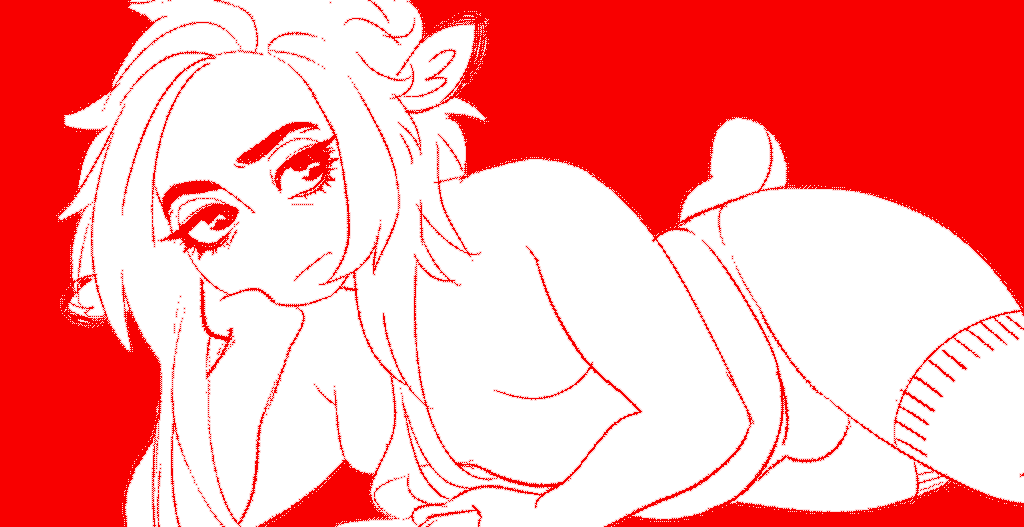 whew its been two weeks since i released my game. i touched some of these topics in my artbook but ill wrote something different here.
first of all i finally found the spark to create something from the combination of finally having gotten proper opioid pain killers and happening to see that yurijam was about to start. ive been rping even if not as much as i wanted but ive been unable to pursue anything creative due to mental health stuff
i saw conversation about indiedevs not really having anything to compare their own metrics to, and then wanted to share some numbers, not just for others interested, but also for myself to see in the future for whenever i release more games and can compare easier. one thing that came out of the conversations was important though, with how much variance there is comparing metrics directly to other devs isnt necessarily as straightforward as it is. keep in mind these are still stats for someone who has made multiple projects in the span of now 4 years or so. so if anything stats like these serve more as a personal margin for me but perhaps it can give some idea what 4 years of gamedev can possibly look like after a release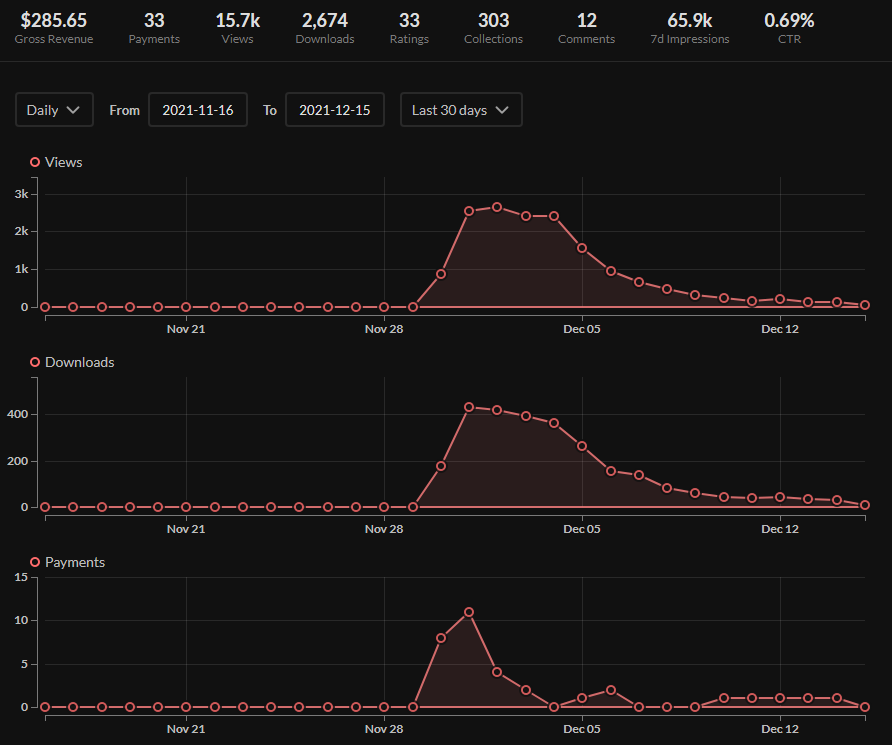 i am quite frankly floored. the amount of traffic and revenue i made was insane compared to my previous projects. the combination of having my girlfriend's art and (i hope) people were looking forward to me releasing somethin new finally u_u it most certainly is no minimum wage, i spent two months working on this and yes everything i create is a hobby and passion project, but of course, all this money is being put into good use as i need to pay extra to feed myself as im unable to cook properly if at all due to my wrist issues
its been rather scary watching the peak of traffic die off so quickly, but its not really tahts surprising and this has happened with all my releases so i assume its normal( just never been this big peak in the first place)

i cant believe people are typing my name or things i did into google. wow
uhm bu ye another very interesting thing taht i noticed is that despite twitter being a rather small amount of traffic compared to how much of views come from within itch io directly, half the money did come from just twitter users and i do believe that the original twitter traffic was that helped me to boost my game up in visibility enough to get the itchio traffic. combination of mine and my partners followers and everyone who so nicely retweeted and boosted my posts c:
i dont really have any conclusion to make of this other than creating gay games good, and there is a lot of people out there who specifically want to see representation in the media they consume. i create the games and stories that i wish i could play and im so eternally grateful for everyone who enjoys them, supports me and and looks forward to my projects even if it ive had this hiatus in teh way
thank you for reading, i hope its been useful in some way and hi future me for when you come back to this!